I'm so so SO excited to finally be able to share my final bedroom design with you! After so many months of traveling, furniture delays, and the like, it's finally FINISHED. I worked with Havenly on the design process… I'll share more on that later in this post, plus a discount code!  I couldn't be happier with how my bedroom turned out! It was actually just featured on Style Me Pretty and Brit + Co, where I answered a bunch of questions about my vision for the room, the process, etc. So be sure to check those out (here & here) if you're interested. But now for the pictures… ALL OF THE PICTURES. Like, 67 of them to be exact. It was too hard to narrow down!
After living in a studio apartment in the Lower East Side in New York City for most of my post-grad life (#chaos), I knew I wanted to create a sense of serenity in my bedroom when I moved to Chicago last summer. Bright, airy, and feminine are words that kept coming to mind, especially when thinking of how I wanted to feel each morning when I woke up in my new space. As you know, I have a penchant for all things fun and feminine. I wanted my bedroom to feel grown-up, but also have a sense of whimsy. And since I'm not having to cater to any male design opinions just yet, I knew I wanted to have fun and inject some feminine personality!
I worked with a designer at Havenly to bring my vision to life. When it comes to decorating, I either have no idea where to start with a room (too many ideas floating around on Pinterest these days!) or I know e.x.a.c.t.l.y what I want. With my bedroom, it was actually the latter! I wasn't quite sure that I needed to work with a designer, but I wanted to give the service a try since I'd heard so many great things from friends over the years. I will say, though, it was so nice to be able to bounce my ideas off someone who is an actual interior designer! (…versus bombarding my Mom and Hallie with links and pictures galore! 😂)
I shared a secret pinboard with my designer to get started that included multiple images of color palettes, some exact pieces I knew I wanted to order, and a bunch of other ideas for decor elements within the room. From there, she sent back mockups, I gave my feedback, and she came back with another mockup, I sent my thoughts, and then she sent back my final design! From there, ordering is a piece of cake… You do it all from the Havenly website!
I've had my eye on this feminine dresser for years and finally pulled the trigger when I moved to Chicago. It's one of those pieces that sets the tone for the entire room!
Paris is my favorite city in the world! Since I was going for a blush color story, I searched and searched for a print that was just what I was looking for with that rosy hue. I read a lot about Feng Shui as I was designing my room and you're supposed to place an inspiring image across from your lign of sight in bed so it's the first thing you see when you wake up. What's better than Paris?! I knew an Eiffel Tower image would be a bit too cliché for my liking, and it's really the Parisian architecture that I can't get enough of during my visits. So this Parisian façade is perfect in so many ways!
I really wanted to be able to choose one of my own images that I've taken in Paris over the years, but searching on the web seemed so much easier than sifting through thousands of images, editing a ton of them, sending them to a printer and hoping that the quality was high enough. Next time, though!
I had my fair share of full-sized, budget-friendly headboards in New York, so I love the foundation that this queen-sized bed gives the room. I chose a wingback version for a little bit more detail versus a traditional rectangular headboard.
I'd found a rug that I was in love with, but it happened to be $6,000 – not happening! I scoured and searched the web for something similar in an accessible price range and ordered so many different rug samples before I settled on this one from Pier 1 that I absolutely love! It's so soft, too.
Can we talk about my sheets for a second?! I've had some really comfortable sheets throughout my life… I've maybe even a sheet snob at times. But oh my gosh, you guys. These Boll & Branch sheets are hands-down my favorite sheets that I've ever owned or slept on. They're so, so soft and honestly get better with every wash! There's seriously nothing better than crawling into my bed at night… It's the best! Probably has something to do with my Tuft & Needle mattress, too. (Okay, enough talking about sleep. Currently writing this at 2:15am and my bed sounds way too enticing!)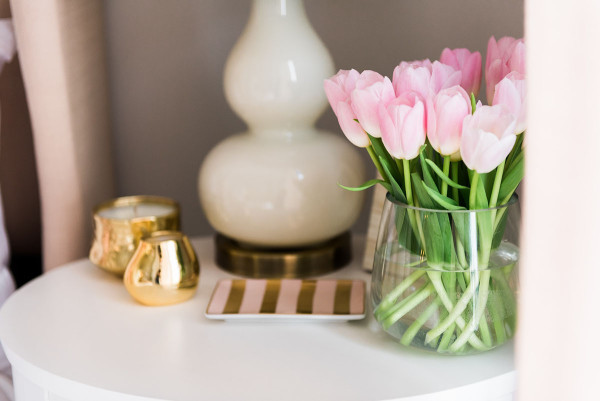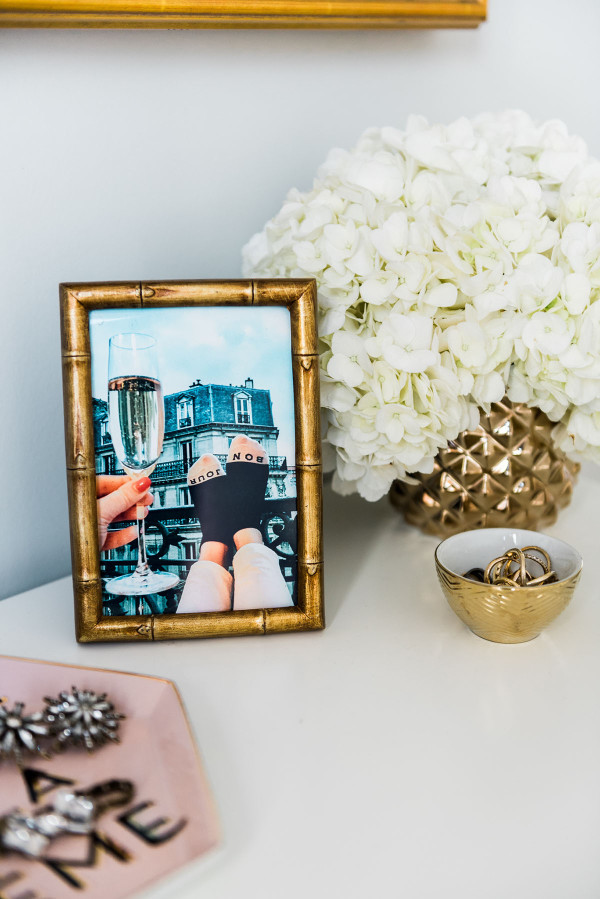 Back to Havenly for a second… You can use code BOWS20 for 20% off through the end of the month! (July 1, 2016, to be exact.)
So what exactly is Havenly, you ask? Havenly is an online interior design service that's actually extremely affordable. There are two different packages, Havenly Mini is $79 and Havenly is $199. You fill out a style survey, pick your designer, send in photos of your space and items you want to keep, and then start working with your designer virtually! Everything is done right from the website so you don't have to worry about going back and forth via emails, texts, phone calls, etc. It really couldn't be easier! And you set your own budget, too. There's no up-selling or anything like that.
What I think is super important, though… You can have as much or as little input as you want! For example, I think this service is AMAZING for guys who aren't really sure where to begin, but they've ditched the roommates and want a place that feels a little bit more grownup. I think it's also a great gift for grads, both high school and college! (Dorm rooms, college apartments, and first apartments post-college, too!) But it's also really nice even if you're extremely specific and know exactly what you want a room to look like! Or maybe you're moving in with your guy for the first time and need a neutral opinion to fuse together both of your styles… Honestly, the scenarios are endless. It's a genius concept, especially since it's all virtual! Here's a peek at what my iterations of mock-ups looked like, just in case you're interested…
The first two concepts…
I gave my thoughts, likes, and dislikes…
We tweaked it once more and got the final design!
You can see that I implemented a few changes and things once I got decorating, but like I said, it was fun to work with a professional on the project! Let me know if you have any other questions about the service, I'm happy to try and answer!
All of the Details // Please let me know if there's something I missed!!
Furniture
Linen Tufted Wingback Bed (color is Patriot Jute)
White Round Nightstands
Linen Tufted Sitting Chair
White Dresser with Brass Drawer Pulls (available here & here // similar here for less; also obsessed with this one!)
Bedding
White Ruffled Duvet Cover
Pink Ruffled Euro Shams
Boll & Branch Sheets
Tuft & Needle Mattress
Beige Animal Print Shams
Ruffled Pink Throw Pillow on Bed
White Fuzzy Pillow on Bed
Blush Pink Square Jacquard Pillow on Bed
Blush Pink Tasseled Throw Blanket
Blush Pink Chunky Knit Throw Blanket
Rugs
Blush Pink Rug (sold out; similar here & here!)
White Faux Animal Shag Rug
Art
Pink 'Un Deux Trois' Print
Parisian Building Print Above Dresser
Antique Gold Frames on the Wall
Decorative Accents
Bone Inlay Floor Mirror
Gold Moroccan Leather Pouf
Sheepskin Stool with Brass Legs
Glass Gourd Lamps
Linen Lampshades
Sheer Blush Pink Linen Curtains (also love these!)
Brass Curtain Rod
Pink Mongolian Pillow on Chair
Mother of Pearl Drawer Pulls on Nightstands
Bone Inlay Picture Frames on Nightstands
Gold Candle on Nightstand
Mosaic Pearl Floor Vase (table version also available!)
White Faux Cherry Blossom Stems in Floor Vase
Linen Necklace Bust
Gold Vase on Dresser
Pink Tray on Dresser
Tiered Jewelry Stand on Dresser
SaveSave